The education system in New Zealand is a three-tier model which includes primary schools, followed by secondary schools (high schools) and tertiary education. The academic year in New Zealand generally runs from late January until mid-December for primary schools, secondary schools, and polytechnics, and from late February until mid-November for universities.
Free primary and secondary education is a right for all New Zealand citizens, and those entitled to live in New Zealand indefinitely, from a student's 5th birthday until the end of the calendar year following the student's 19th birthday and compulsory between their 6th and 16th birthdays.
New Zealand's education system is world-class, modern and responsive. It combines proven, traditional principles with innovation, creativity and fresh thinking to produce leaders and citizens equipped for the 21st century. New Zealand has strong international education connections and recognition. There is considerable international interest in New Zealand's achievements in education. Our education services and products, are sought after around the world.
New Zealand Education pathway
PRIMARY AND SECONDARY SCHOOLS
There are 13 academic year levels, numbered 1 through to 13.Students turning five enter at Year 1 if they begin school at the beginning of the school year or before the cut-off date (31 March in legislation, later for most schools). Students who turn five late in the year might stay in Year 1 for the next school year depending on their academic progress.Students in Years 7 and 8 may attend an Intermediate School which provides a transition from primary schooling to secondary schooling. The last year of primary schooling is Year 8, and students must vacate Year 8 by the end of the school year after their 14th birthday (although most students are 12–13 when they transition to secondary school).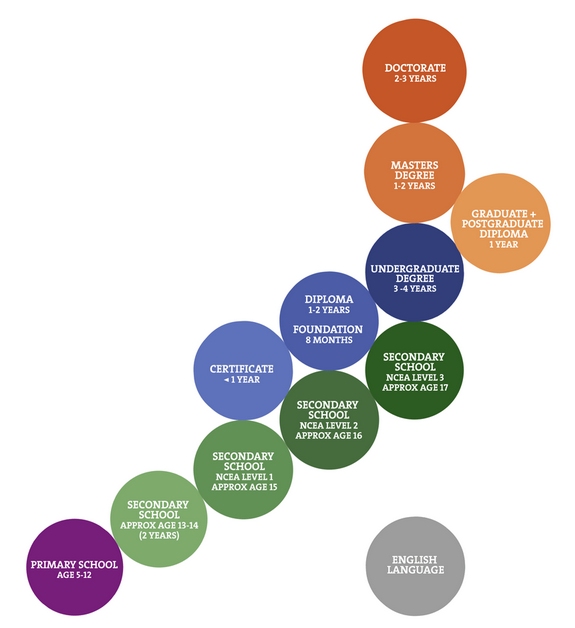 New Zealand Education Pathway
The first year of secondary education is Year 9.
Education in New Zealand is student-centred. It is focused on supporting students to problem-solve, process information, work with others, create and innovate. Each student is able to develop their potential along a number of possible pathways, academic and/or vocational.
In the last three years of secondary school students can obtain NCEA certificates. The NCEA system has three levels – one, two, and three – corresponding to their respective levels on the National Qualifications Framework. NCEA level one in studied in Year 11, NCEA level two in Year 12, and NCEA level three in Year 13, although it is not uncommon for students to study across multiple levels.
To pass each level, students must gain a certain amount of credits at that level or above. Credits are awarded through students passing unit standards or achievement standards. All standards use criterion-based marking, which means students only need to achieve the given criteria to pass the standard. While unit standards use a simple pass/fail system, achievement standards use a four-grade scale: Not Achieved (N), Achieved (A), Merit (M) and Excellence (E).
tertiary education
Post-compulsory education is regulated within the New Zealand Qualifications Framework. There are three main education providers: universities, polytechnics and private training establishments. Private training Establishments are to provide training often not available in the public sector. They offer curriculum in "niche occupations" like tourism, design or ICT. Institutes of Technology and Polytechnics (ITP) offer general technical and vocational education. Curriculum are based on practical knowledge in a working environment.
Typically, a bachelor's degree will take three years, and a further year of study will lead to an Honours degree. Not every degree follows this 3+1 pattern: there are some four year degrees (which may or may not be awarded with Honours), and some specialist bachelor's degrees which take longer to complete.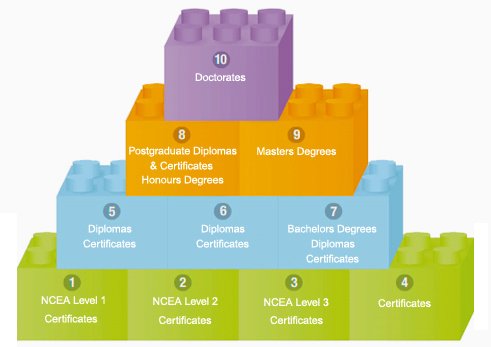 A bachelor's degree may be followed by a Master's degree. A candidate who does not hold an Honours degree may be awarded a Master's degree with honours: such a degree usually involves two years study, compared to one year for a Master's degree for a candidate who does have an Honours degree. A candidate who has either a Master's degree or a bachelor's degree with Honours may proceed to a doctoral degree.