the new zealand tax system
If have a job and you earn income from salary, wages, benefits or taxable pensions, your tax will automatically be deducted under the PAYE (pay as you earn) system.
PAYE is the tax your employer deducts from your salary and wages. It includes:
the tax rate for your income, and
an ACC earners' levy
This means when you get your weekly, fortnightly, or monthly pay, your tax has already been deducted from it.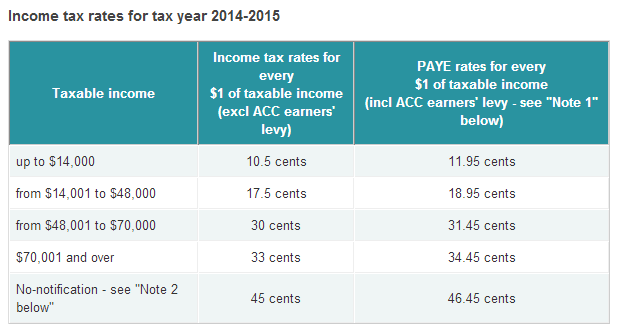 New Zealand income tax rates © Inland Revenue Department
Profit from a business is taxed at a flat rate of 28%.
All worldwide income is taxable whether your funds/capital and investments are held in New Zealand or elsewhere. There are penalties for those not declaring offshore income if the Tax Department catches you. However where New Zealand has a double tax agreement you will receive a tax credit on the tax paid at source and you will not pay tax a second time on it in New Zealand.
New Zealand operates a consumption tax on all goods and services consumed here. Called the Goods and Services Tax (GST), it is levied on everything (except private house sales and financial services) at a rate of 15 %.