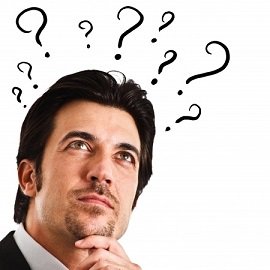 One of the most confusing issues in New Zealand visa jungle is telling the difference between a New Zealand permanent resident visa and a resident visa. Immigration New Zealand have done a pretty good job of making this as complex as possible. So I'm going to explain it to you and hopefully simplify the whole thing in such a way everyone can understand it.
When you are granted a Resident visa you may stay in New Zealand permanently. The visa does not expire and it does not need to be renewed every so often. You also have, more or less, the same rights and privileges as a New Zealand citizen.
There are a few things you are not allowed to do with a Resident visa. For instance, you cannot vote until you have been here for at least twelve months and you may not be given a social welfare benefit for two years.As a Resident visa holder you pay the same taxes, you can buy the same houses and use the healthcare and education systems in the same way a citizen can. Unlike many other countries where they have much more restrictions on Resident visa holders.
Explaining your Resident Visa
When your application for Residence is approved the first thing you will be issued with is a Resident Visa. The visa label (see example below) will be put in your passport and if the visa was granted offshore, it will hold two important conditions. The first one is called 'First Entry Before' date. This means you (and any family members included in the application) must have entered New Zealand at least once before the date stated here is reached (12 months after the visa was granted). If you do not enter New Zealand before this date your Resident visa will lapse which means you will lose your Resident Visa entitlement.
If your Resident Visa is issued when you are onshore then your visa won't have a 'First Entry Before Date' as you are already here.The second condition stated on the visa label (which is usually the one that confuses most people) is the "Expiry Date Travel". This does not mean your visa will expire after a certain date. It means your travel conditions will expire (usually after two years from the date of your first arrival or if you were onshore, two years after your visa was granted). Travel conditions give you the right to enter and exit New Zealand as a Resident. If you would leave New Zealand and wanted to return after your travel conditions expired your Residence would be deemed to have lapsed and you might be refused entry into New Zealand because you do not hold a valid visa anymore.The above applies to most application types however, there are some additional conditions for Investor or Parent Category applicants.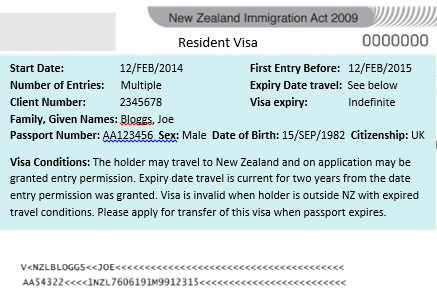 What is the difference with a New Zealand Permanent Resident Visa?
A New Zealand Permanent Resident Visa gives you the same rights and privileges as your Resident Visa however, the travel conditions never expire so you can come and go as you like (see example below). This is where the word 'permanent' of the Permanent Resident Visa refers to. As you can see it has nothing to do with staying permanently in New Zealand. You are allowed to stay permanently in NZ on both visas. It has to do with permanently being able to exit and re-enter the country as a Resident.
When are you eligible for a Permanent Resident Visa?
You can apply for a New Zealand Permanent Resident Visa at the end of the two years of your initial Resident Visa. To qualify for this visa you must meet one of five criteria. The easiest one to meet is 'significant period of time spent in New Zealand'. The principal applicant must spent 184 days in each of the two years from the date they first entered New Zealand. For example, when you entered NZ on 1 April 2013, you must spent 184 days in New Zealand between 1/4/2013 and 31/3/2014. And another 184 days from 1/4/2014 to 31/3/2015. The 184 days do not need to be consecutive and can be broken up. As most people do not have more than 4 weeks of annual leave it is not difficult to meet this requirement. Once you have a Permanent Resident Visa you are free to come and go and spend as much or as little time in New Zealand as you wish without putting your 'permanent residence' on the line.